ePTFE Capabilities
Our ePTFE is available in a wide variety of tubular diameters, lengths, and wall thicknesses offering you cost-effective, conventional solutions or we can develop customized product to meet your specific needs. Our ePTFE is used in many implantable applications and is valuable as a predicate for regulatory submissions.
Why Choose Bard OEM ePTFE?
Our High Density Microwall Technology makes ePTFE thin yet extremely strong; ideal for stent covering.
Flat Sheets with thicknesses as low as .1 mm provide the benefits of ePTFE without adding bulk to your device.
Many of our OEM products have Bard branded counterparts with long histories of clinical success and regulatory acceptance to support your regulatory efforts.
Chemically inert, hydrophobic, and gas permeable ePTFE (expanded polytetrafluoroethylene) is ideal for implantable medical device applications.
Its conformability, high temperature stability, and superior gas permeability make ePTFE a versatile and reliable choice.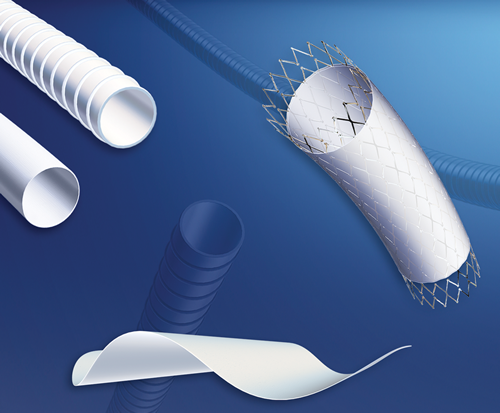 We provide customized tubular, flat sheet, and encapsulated ePTFE solutions.